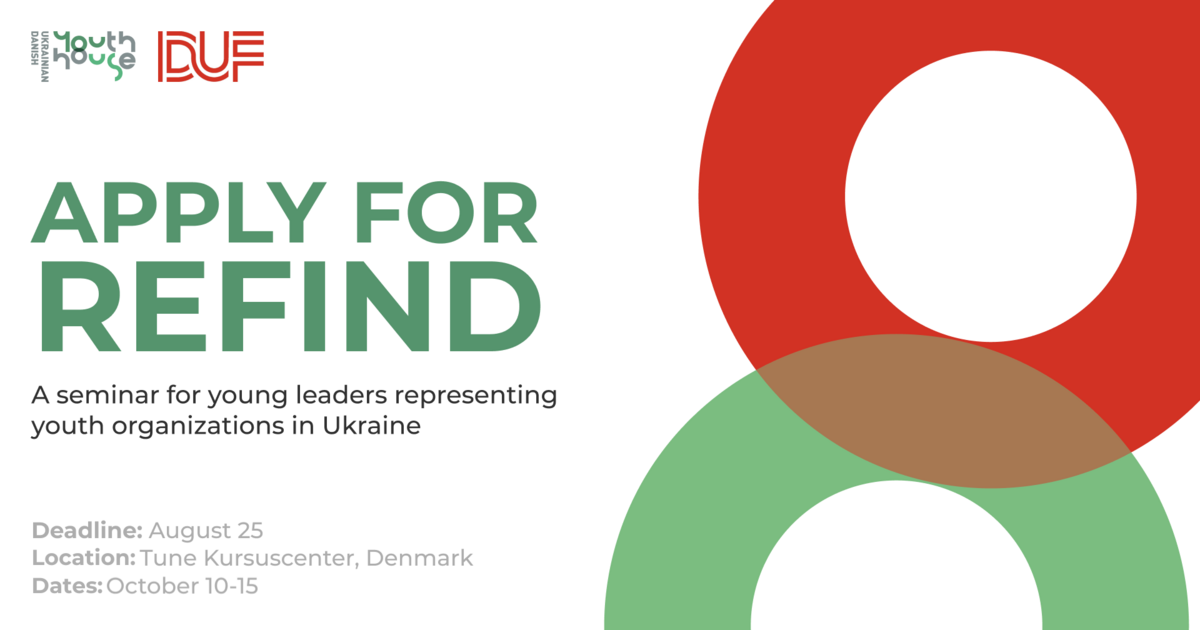 Ukrainian activists, join the Refind seminar in Denmark!
When
10-10-2022 - 09:00 - 15-10-2022 - 21:00
Have you and your youth organization changed since the beginning of the full-scale war? Is your team facing new challenges?
Apply for the Refind seminar!
General:
It's a six-day seminar taking place in Denmark in October for young Ukrainians in a leading position in a youth organization/group. The seminar will address some of the key challenges youth organizations have been facing since the full-scale Russian invasion.
The seminar will give you tools and room for conversations on the situation of your youth organization — what has happened, where we want to go, and how we get there as an organization.
Also, Refind will give you, as a volunteer, tools to create a community for young people with different experiences and backgrounds.
There will also be time to get to know the other young Ukrainians in similar situations, have cozy evening activities, and take some long walks in Danish nature.
Tracks:
Track 1: Mental health
How can we as youth organizations create the best possible atmosphere for being together and doing activities with all the experiences the war has been giving us? How can we in our youth organizations avoid stress and burnout? Experts, cases, and lots of conversations during the seminar will help answer these questions.
Track 2: Where are we?
Youth organizations have been challenged, changed, and disrupted since the Russian invasion. Refind will give you tools to analyze your own situation, create plans for the development of your organization, and have room to discuss what has happened.
Our participants:
ages 18 – 30;

sufficient English;
representing a youth organization/group;

applying in pairs;

both participants should have been taking leadership in the youth organization;
have long-term perspectives for the development of the organization;

are currently in Ukraine or abroad.
The seminar will be in English.
Remember to submit applications in pairs (two participants from the same youth organization/group).
---
Deadline for applications: August 25, 23:59.
Dates of the seminar: October 10-15
Location: Tune Kursuscenter, Denmark
* All costs related to Refind will be covered by the Danish Youth Council.
* Refind is an activity of The Danish Youth Council as part of the Ukrainian-Danish Youth House.