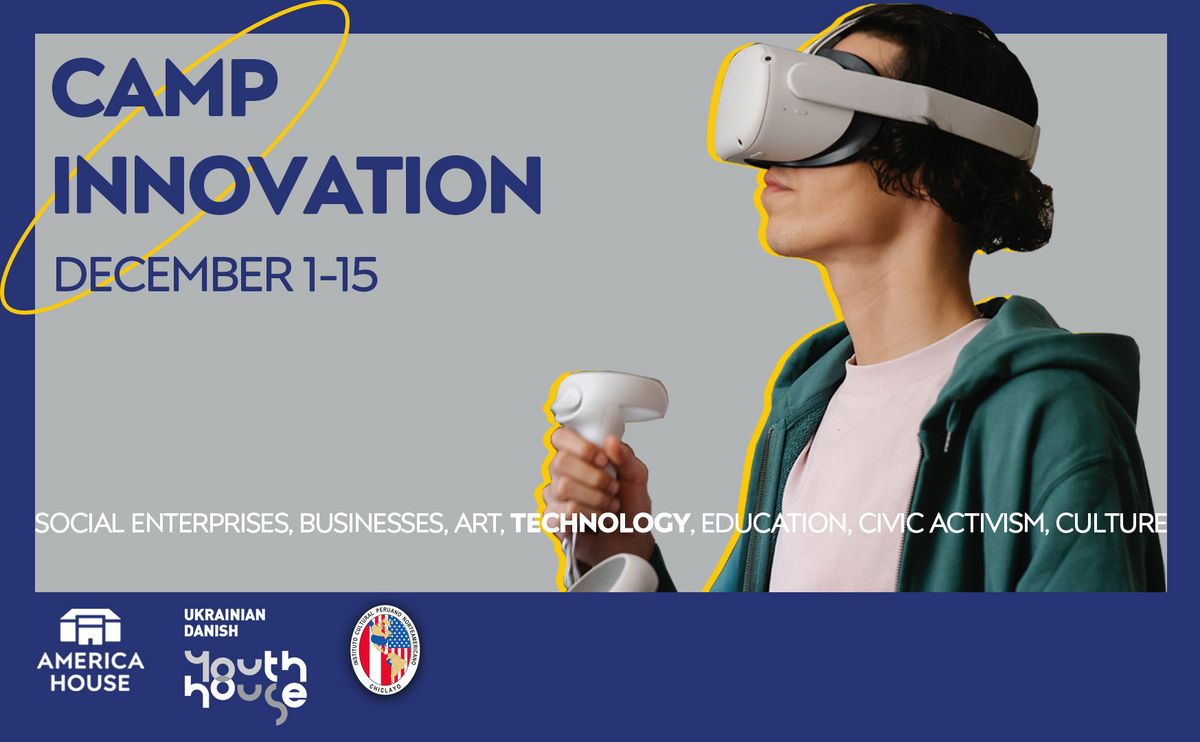 Camp Innovation
When
01-12-2021 19:00 - 20:30
How does "creativity" translate across different cultures and why is innovative thinking the skill of the future?
Camp Innovation is a program that gives you an opportunity to discuss these and other questions with participants from Ukraine, America, Peru, and Denmark during our program. Join us if you already have any ideas relating to youth, social enterprises, businesses, art, technology, or just want to learn how creative thinking can bring new colors to your daily life.
The program consists of 3 sessions, 2 general and 1 one-on-one session, each would last approximately 1-1.5 hours. One-on-one sessions would be held in a "zoom pal" for a day format, where you will be matched with a counterpart representing their country.
We believe that anyone can spark innovation and have super ideas worth sharing – just give them a try!
Apply if you want to:
Network

with like-minded people from Ukraine, the United States of America, Peru, and Denmark with various backgrounds, all collaborating to uncover common and innovative ways of staying creative and generating new ideas.

Think differently about innovation

, comparing creativity across cultures,

discussing how COVID-19 and global trends boost innovations and influence our future.

Hear fresh thoughts

on your ideas if you already have them or get inspiration and support if you just want to develop one.

Exchange cultures

and get familiar with a culture different from your own, developing new connections through group discussions and one-on-one talks.
To participate in the program, please register here.
Application deadline is November 21st.
No preparation is required, discussion topics will be provided.
Participation in the program is free of charge.
The event will be held in English.
CAMP INNOVATION PROGRAM:
December 1st, 7:00 – 8:30 PM (GMT +2) | Camp opening: "What makes an idea innovative?".

Open discussion with

Søren Lethin

, Innovation Catalyst at LEGO.

December 2-14th | Virtual one-on-one session

with a counterpart from Ukraine, USA, Peru or Denmark (one day, times vary).

December 15th, 7:00 – 8:30 PM (GMT +2) | Creativate: Virtual Bonfire Night.

Discussion with

Dimitris Dimitriadis,

Digital Futurist and

co-founder of TheFutureCats.
Who are the speakers?
Søren Lethin

, Innovation Catalyst at LEGO. Søren

has been with the LEGO Group for over 30 years and currently facilitates innovation and design teams on their "new play/business" strategic projects. During the event he will talk about recent trends in audience-driven innovation and ideation, the Innovation shift and new ways of working on the example of LEGO.

Dimitris Dimitriadis,

Chief Innovation Officer at TheFutureCats. He is a Digital Futurist, public speaker and expert on future trends, answering the big and smaller questions that will define humanity. Dimitris will talk about how to identify and cultivate innovation and innovative thinking, and what creativity will look like in a future world.
Participants who attend all sessions will receive certificates of completion of the Camp Innovation program.
This program was created in collaboration with America House Kyiv and ICPNA CHICLAYO in Peru.