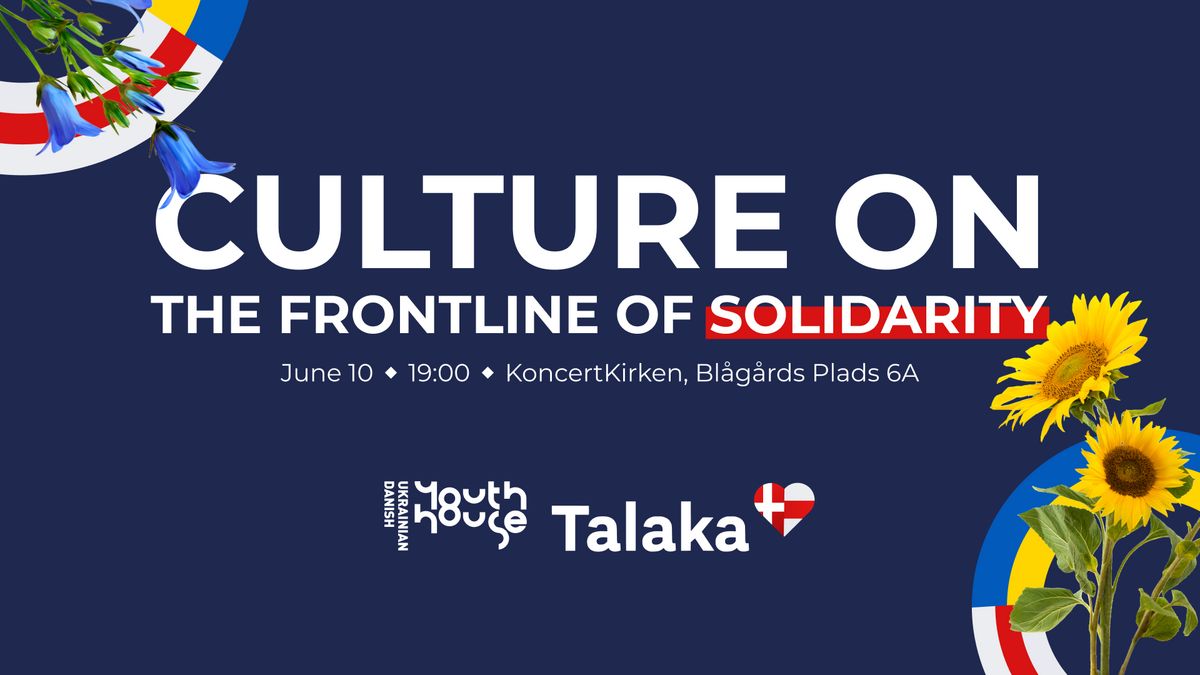 Culture on the Frontline of Solidarity
When
10-06-2022 19:00 - 21:00
Location
KoncertKirken, Blågårds Plads 6A, Copenhagen

Registration link
Today Ukrainians are fighting for their freedom and to protect global human rights values. Meanwhile, many Belarusians are trying to topple the authoritarian regime in their country. These struggles, albeit different in nature, emphasize the importance of finding common ground through sharing culture and artistic expression.
Through the lens of music, we want to draw attention to the importance of united efforts to achieve a future full of creative freedoms for all. So, we invited young, gifted musicians from Ukraine, Belarus, and Poland to showcase the importance of the cultural front in uniting people to combat injustice and oppression.
So, join us for an evening of a celebration of Ukrainian and Belarusian culture in the heart of Copenhagen. The event has been organized by the Ukrainian-Danish Youth House and the Danish-Belarusian Association Talaka. This fundraiser evening features talented musicians from both countries and special guests from Belarus.
After the event, there will be a reception, where you will get a chance to learn more about the Ukrainian and Belarusian diasporas in Denmark and the work for the Ukrainian-Danish Youth House and Talaka.
Featured musicians:
Margarita Levchuk (soprano) - Belarus
Natalia Gordeyeva (violin), Julia Zhukova (piano) - Ukraine
Dominik Wizjan (piano) - Poland
When: June 10, 19:00-21:00
Where: KoncertKirken, Blågårds Plads 6A, Copenhagen.
Important! Dear friends, the tickets for the event are free, but your donation will be appreciated. All the funds, raised during the event, will go to The Media Solidarity Belarus Campaign and the Plast National Scout Organization's Training Center in Bucha.
Due to the high demand and a limited number of seats, please note that there is a no-show fee of 200 DKK. In case you want to cancel your ticket, please contact tickets@talaka.info. Also, we encourage you not to book more than 4 tickets per person.
The concert is organized with support from Politiken Fonden and Andreas Harboes Fond.
---
About Talaka:
Talaka is a not-for-profit association founded by the Belarusians and the friends of Belarusian people in Denmark on the wave of the uprising of National Solidarity of Belarusians after the August 2020 presidential election. Its vision is a democratic, sovereign and prosperous Belarus recognized by the Belarusians and the international community for its political freedoms, respect for human rights, and the supremacy of law.