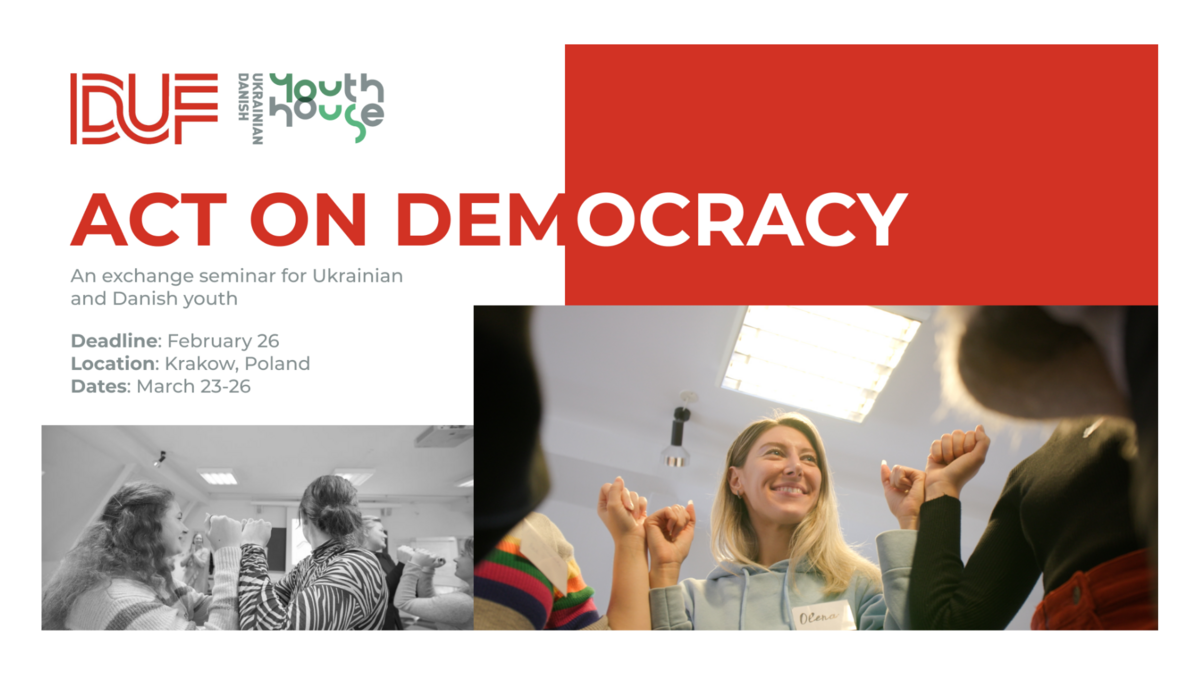 Join an exchange seminar "Act on Democracy" in Poland
When
23-03-2023 - 08:00 - 26-03-2023 - 20:00
Join a leadership exchange seminar between Ukrainian and Danish youth!
"Act on Democracy" is a network between Ukrainian and Danish youth where you will interact with young people from different youth organizations. You will participate in 4 days of workshops where you will investigate democracy and the democratic conversation, democratic action, participation, advocacy, and influence in society, partnerships, and global solidarity.
The main aim is to engage young people in civil society and focuses on youth-led and youth-driven activities within the theme's democracy, dialogue, and transformative leadership.
Important dates:
The deadline for application is on February 26
Online pre-departure meeting on March 15. Here we will go through the program and travel information.
The youth leadership academy consists of a four-day training program in Krakow, Poland, on March 23-26
Practical information:
The language will be English.
The team will consist of 24 highly motivated young people from Ukraine and Denmark
Expenses:
We cover all costs (national and international transportation, food, vaccinations, insurance, etc.)
Requirements:
Highly motivated, wanting to network and learn more.
Age between 18-30
Be able to participate in the online meetings and all the days of the seminar.
Youth from Ukraine can represent themselves, their community, or a youth center. A youth from Denmark has to be a volunteer in one of DUFs member organizations.
It is not a requirement that you have a lot of knowledge and experience. The focus is on learning and participation. All you need is to be motivated, eager to learn, and want to meet peers from Ukraine and Denmark.
Application:
There is a free application method – Send a motivation letter, PowerPoint presentation, movie, pictures, a collage, podcast, paintings, scrapbook, brochure, etc. you decide. Keep it short and simple.
The application must consist of:
Your motivation for participating?
How your organization can benefit from your participation
No need to send a CV or list of achievements – we value engagement, commitment, and motivation.
Please, apply via the link.
Remember: the deadline is on February 26, 23:59.
Cannot wait to meet you!