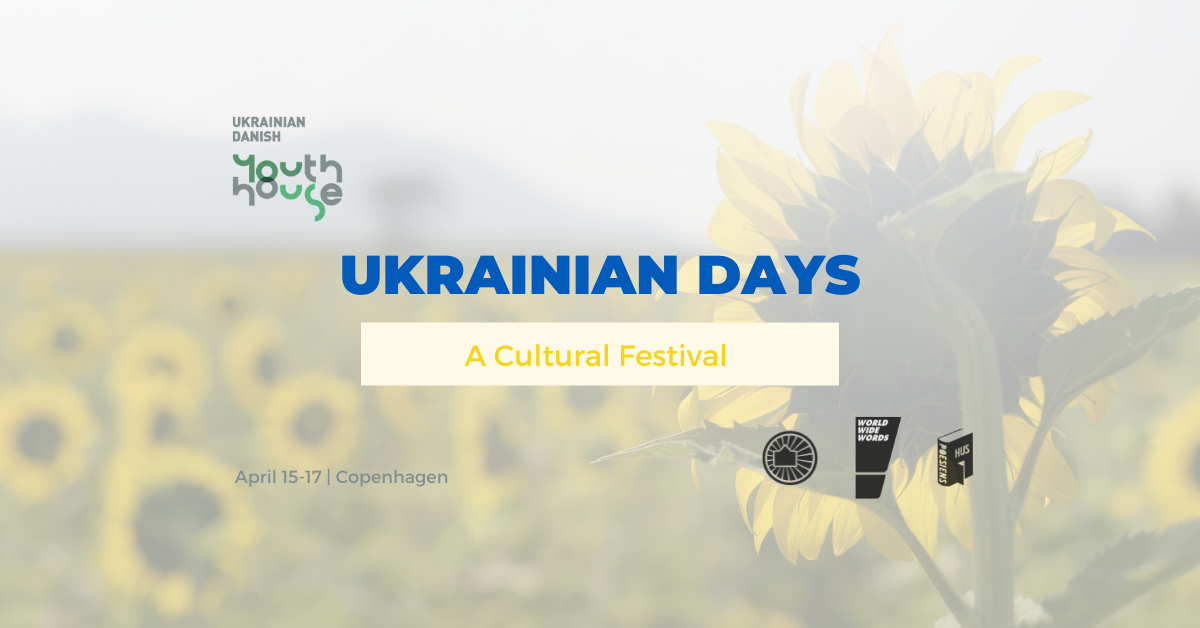 Ukrainian Days - a culture festival in the heart of Copenhagen
When
15-04-2022 - 14:00 - 17-04-2022 - 20:00
Location
LiteraturHaus
Møllegade 7
2200 - Copenhagen
Denmark

Organizer
Ukrainian-Danish Youth House, Poesiens Hus, World Wide Words
Registration link
Art and culture are strong forces of resistance, but are also key to understand a people, a country, a nation.
Over a month ago, Russia invaded Ukraine, and in that short time span our world view has changed. We have seen our Ukrainian friends, colleagues, and partners fight for their country, both militarily but also through information, art, and culture.
Ukrainian Days is the festival that seeks to give Ukrainian culture the deserved space in Denmark, build bridges and closer ties between Denmark and Ukraine by celebrating Ukrainian arts and culture whilst fundraising money in support of Ukraine.
Expect a plethora of Ukrainian culture. From music to poetry to performances and debates. You will be able to experience workshops, interviews, and the opportunity to buy Ukrainian art.
UKRAINIAN « WAR WORDS »
Event organized by World Wide Words

Where & When: LiteraturHaus, Copenhagen – April 15

What can you expect? A poetry reading event with Ukrainian writers and literature enthusiasts. There will be engaging discussions with the Ukrainian authors about their work, their worldview, their culture and beyond.
LITERARY PUB QUIZ
Quiz session organized by LÆST

Where & When: LiteraturHaus, Copenhagen – April 15

What can you expect? A fun social gathering around a literature and pop culture quiz. You will be able to test your knowledge, learn, and interact with other participants or friends in a festive and informal atmosphere.
---
UKRAINIAN CRAFT WORKSHOP(S)
Organized by Kateryna P. & the Association of Ukrainians in Denmark

Where & When: LiteraturHaus, Copenhagen – April 16

What can you expect ? Several craft/creative and social workshops where you will be able to make artworks (decoupage, Ukrainian dolls, bracelets…) and work on small projects alongside Ukrainian artists/creators.
MUNGO PARK presents « Sovjetiske Stemmer » (Soviet Voices)
With Sofie Mileva Cukic, Simon Bennebjerg, Paw Henriksen & Ina Miriam Rosenbaum!

Where & When: LiteraturHaus, Copenhagen – April 16

What can you expect? A unique and intriguing choir and theater performances, based on the book « Seconhand Time » written by the 2015 Nobel Prize laureate, Svetlana Alexievich. See our post about Mungo Park below to know more about it !
UKRAINIAN MUSICAL PERFORMANCES – EVENING CONCERT
With Taya Lukashova, soprano, accompanied by Villads Bendixen on piano ; but also with Anastasiia Kyshkovska, bandura expert and musician, Sofiia Matiuk, 14-year-old pianist talent from Odesa as well as the Danish-Ukrainian pianist Elisabeth Holmegaard Nielsen.

Where & When: LiteraturHaus, Copenhagen – April 16

What can you expect? A beautiful and powerful musical session with singing and musical performances including piano, violin and even a rare Ukrainian instrument, the bandura. The focus of this evening concert will be on Ukrainian composers (Shurovsky, Skoryk, Bashtan…) as well as on popular Ukrainian folk songs. Don't miss it !
---
ART MARKET
Organized by Thore Davis, Bjørn Kjeldsen, and Malou Bumbum

Where & When: LiteraturHaus, Copenhagen – April 17

What can you expect?

An eclectic charity Art Market that will go on, most of the day, on Sunday. All the proceeds from sales will be donated to 3 organizations supporting Ukrainians: the Ukrainian Child Helpline, La Strada, the Ukrainian Emergency Arts Fund and the Ukrainian LGBTQ+ nonprofit organization, Insight. So, come have a look and if you find some art piece you like, your purchase will empower organizations helping Ukraine!
---

TICKETS
You can buy your ticket here: https://poesiens.nemtilmeld.dk/1/
You choose the amount depending on what you can afford and what you want – all of the money will go to Ukraine. There is furthermore plenty of opportunities to donate and spent money at the festival.
DONATE ART
We are looking for artists (or people owning art) that would be ready to make a difference for Ukraine by donating small art pieces to be sold on April 17 at the Art Market of the festival. All the money collected during the Art Market will indeed be donated to organizations supporting Ukrainians.
Read here the information about the Ukrainian Days Art Market, how to donate art and be part of this initiative.
WE SUPPORT
All the funds raised through the entrance donations and sale of arts will go to Ukraine. All the profit from the bar will also go to Ukraine.
To be more specific, the support will go to La Strada, Ukrainian Arts Emergency Fund and Insight NGO.
About the working group:
The group met at the event "You can do something for Ukraine" in Copenhagen the 2nd of March, and has since worked tirelessly to create this festival. The group has cooperated with Poesiens Hus, LiteraturHaus, and World Wide Words as well as a lot of amazing organizations, companies, and individuals.