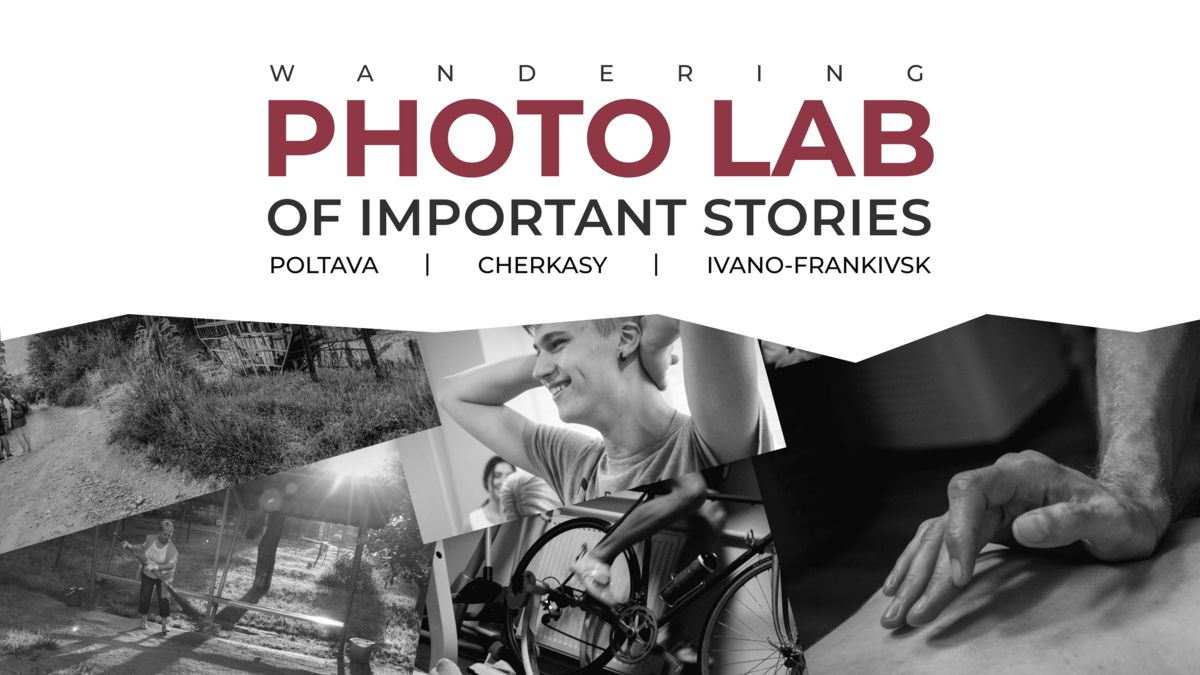 Wandering Photo Lab of Important Stories
When
06-11-2021 - 21-11-2021
Organizer
Ukrainian-Danish Youth House
This time we are traveling around Ukraine to break down the visible and invisible social, cultural, linguistic and many other barriers we face every day.
Through photos you can not only tell people's stories, but also help them to be heard and understood. And we want to do it with you.
The Photo Lab of Important Stories is an intensive workshop from the Ukrainian-Danish Youth House, where you will learn to take photos on your smartphone or camera and tell socially important stories. We will talk about everything from how to choose the right lighting to how to convey the proper atmosphere. You will gain a basic understanding about visual storytelling, photography and public communications.
Where and when:
Poltava (for youth from Poltava city and Poltava region)

At the regional youth center, Mishchenko street 2
6th - 7th of November, both days from 10:00 to 18:00
Apply here

Cherkasy (for youth from Cherkasy city and Cherkasy region)

Online (due to the current situation around the COVID-19 pandemic)
13th - 14th of November, both days from 10:00 to 18:00
Apply here

Ivano-Frankivsk (For youth from Ivano-Frankivsk city and Ivano-Frankivsk region)

Online (due to the current situation around the COVID-19 pandemic)
20th - 21st of November, both days from 10:00 to 18:00.
Apply here
In each region, we will select 15 participants who:
attend a two-day intensive worskhop of photo storytelling by Ukrainian photographer Serhiy Korovainy;
learn firsthand about the life and work of Danish photographer Nikolai Linares and his winning photo from the Black Lives Matter demonstration;
join the community of young leaders of the Ukrainian-Danish Youth House.
The Youth House will provide meals for all participants, and if necessary, will cover the costs of accommodation and transportation for participants from towns / villages in the region.
Among the participants who passed the two-day workshop, we will choose 5 people from each region, who:
will create and present their own photo stories that will be part of the exhibition program of the Youth House;
will receive mentoring support from Serhii Korovainyi;
will join the final in Kyiv on December 6-12th that will feature Ukrainian and Danish photographers.
Apply if:
you live in Poltava, Cherkasy or Ivano-Frankivsk region;
you study at a university or in high school;
you like photography (and want to learn to do it more professionally);
you have a smartphone or camera;
you want to delve into the topic of personal and social boundaries.
To apply, follow the relevant link:
---
Serhiy Korovainy is a documentary filmmaker who works at the intersection of photography, video and virtual reality. In 2017, he became a fellow of the Fulbright program and completed a master's program in visual communications at Syracuse University, New York, USA. As a photographer and videographer, Serhiy collaborated with the Financial Times, Radio Free Europe, Society, Astana Times, Bird in Flight, Ukrainer, Reporters, OSCE, UN and others. At the same time, he worked on his own documentary stories. Became the second director of the documentary project in virtual reality Aftermath VR: Euromaidan about the most tragic events of the Revolution of Dignity. In 2018 he joined The Gate Agency. Winner of Fresh Eyes 2020 from GUP Magazine.
Nikolai Linares is a Danish photojournalist who lives and works in Copenhagen. He studied at the Danish School of Journalism and then worked on various projects for national and international publications. Nikolai has received many awards for the best photographs, including the "Best Photo News of Denmark" from the Black Lives Matter demonstration.