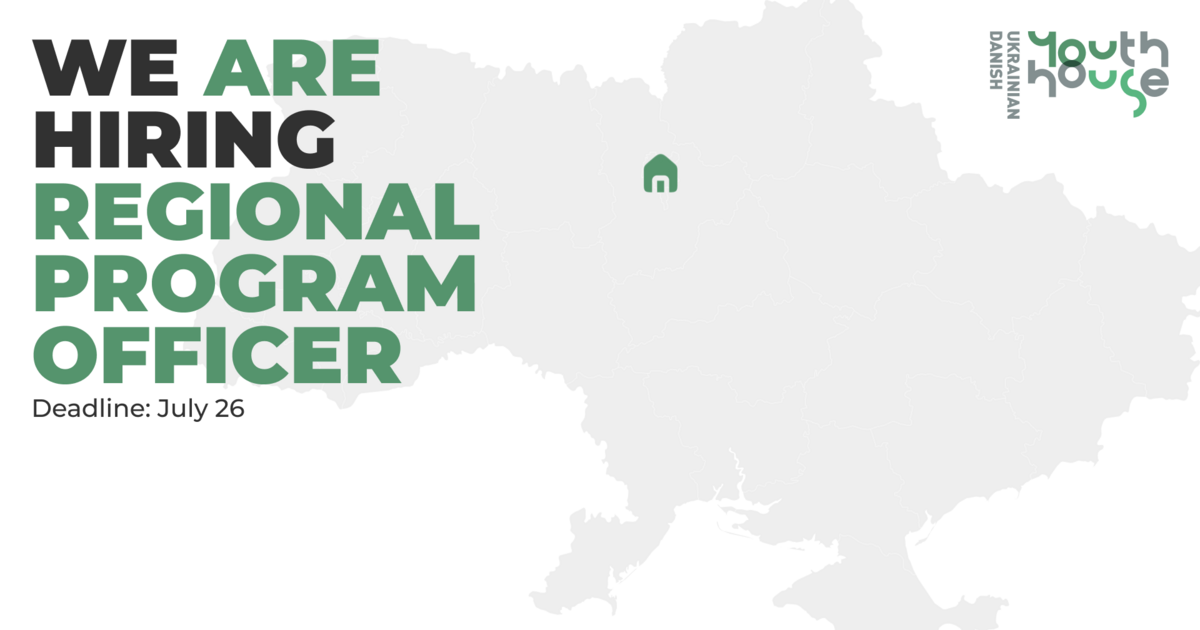 Job Opportunity | Regional Program Officer
10-07-2023
As our regional program officer, you will be responsible for the Ukrainian-Danish Youth House's regional outreach. You will help implement our activities across Ukraine as well as give support to local youth organizations and grassroots initiatives. You will engage young people from different regions of Ukraine and develop our regional networks as well as make sure that the activities of the Youth House are relevant for the whole country. You will be part of a team of young and dedicated employees, so we hope you will take an active part in our group where we help each other and emphasize a good working environment.
About us:
The Ukrainian-Danish Youth House is a platform for young people from Ukraine and Denmark that supports youth participation, democracy, and culture. Based in Kyiv, we offer a creative, democratic platform for everyone between 16 and 35 years of age to engage, facilitate and support youth projects and activism across our countries. Since 2021 we do this through our activities and programs, through supporting youth organizations, cultural expression, and through our grants. The Youth House is formally steered by a consortium consisting of the Danish Youth Council and the Danish Cultural Institute.
Responsibilities:
Coordinating and facilitating the regional programs of the Ukrainian-Danish Youth House (such as UkraineMrii and Maysternia tvogo rozvytku)
Ensure geographic representation in the Youth House and its activities
Develop and maintain our network of regional actors (youth organizations, authorities, etc.)
Counsel youth in regions with the coordination and implementation of their civil society projects
Ensure effective monitoring, evaluation, and reporting of regional activities
Support with communications related to regional activities
Assist with activity and event planning in the Youth House
Other duties as assigned
Requirements:
Completed relevant education
Minimum 2 years of experience in similar positions
Experience with project management (full cycle)
Experience with youth work is an advantage
Strong command of written and spoken Ukrainian and English
Excellent social and communication skills and ability to solve conflicts
Regional network / knowledge of regional structures is an asset
Experience working with inclusive approaches, LNOB, and HRBA is an advantage
Willingness and flexibility to travel in Ukraine
What we offer:
An entrepreneurial workspace based in Kyiv, where you will be part of the environment in the Youth House
Comfortable and brand-new premises in central Kyiv
Nine dedicated colleagues in an international environment
Work computer and phone
A one-year full-time position (regular employment contract) with the possibility of prolongation
Salary of 750 EUR/month (net)
24-days paid vacation per year
Uniqa health insurance
How to apply:
Send your CV and letter of motivation (in English) to the email hello@theyouthhouse.org with the subject line "Regional Program Officer". The deadline for application is July 26 at 23:59.
For further information, feel free to contact Program Manager Andrii Marushchak on am@theyouthhouse.org